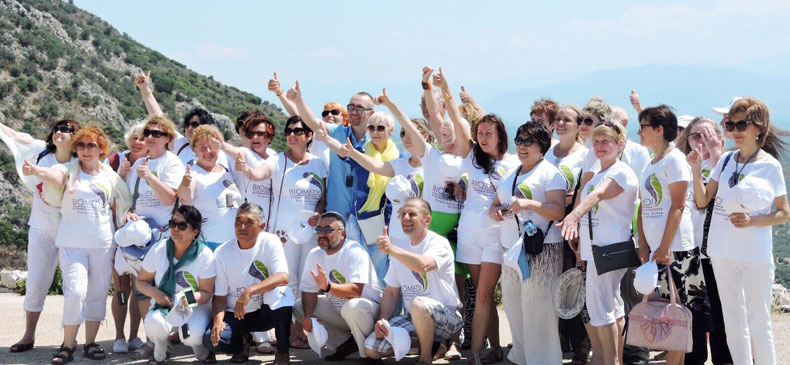 Dear friends!
From 5 to 11 October
in Turkey there will take place the Forum «BIOMEDIS GLOBAL TECHNOLOGY».
Every year in the world there created hundreds of new solutions to promote the business in MLM. The one who used to be an ordinary person yesterday, can become a leader tomorrow.
How to remain effective, keep and multiply your team, achieve outstanding results, without contradicting your values and beliefs? The answers to these and other questions you will have at the forum BIOMEDIS GLOBAL TECHNOLOGY.
BIOMEDIS GLOBAL TECHNOLOGY is 5 days of the strongest motivation and amazing rest. This is a time among like-minded people and friends, a time for new acquaintances and experience sharing. The sun, the sea, the mountains and the multinational BIOMEDIS team - together we create energy and inspiration. The FORUM "BIOMEDIS GLOBAL TECHNOLOGY" is a place of power!
BIOMEDIS GLOBAL TECHNOLOGY is 5 days of intensive work for self-development, for the development of your business and your team. You will take part in trainings, workshop and master classes. You will attend lectures of authoritative doctors and get practical recommendations on the application of BIOMEDIS technologies. So much business-intensive you will get for the first time!
EVENT LOCATION
Turkey, Antalia, Kemer, hotel CRYSTAL DE LUXE RESORT & SPA 5*.
CONDITIONS OF PARTICIATION
Entrance ticket – 50 usd.
The ticket allows you to participate in all the forum blocks and in the Gala dinner with the entertainment program.
Accommodation at the hotel from 5 to 11 October is 312 dollars per person.
The all-inclusive system (food, drinks, alcohol), double occupancy lodging in the room. The price does not include the flight and transfer.
For those who will not be staying at the CRYSTAL DE LUXE RESORT & SPA hotel, a day stay at the hotel is $ 35. per day. Includes one lunch. Payment is collected by the hotel.
Optional excursion – no more than 35 usd.
The program and price of the excursion will be specified as soon as we the number of the participants is exact.
Forum participants will receive the promo codes for a super discount and will participate in the lottery.
APPLY FOR THE PARTICIPATION
CONTACTS:
Yulia Smirnova – skype yulia4466, почта
mbiomedis@gmail.com
, phone number +7 920 257 2579 (viber, whatsapp).
CONTACTS FOR UKRAINE:
Stanislav Smirnov – skype smirnovstas2, phone number +380505420699 (viber, whatsapp).
Friends! Hurry up to apply, the number of rooms in the hotel is LIMITED!
When planning a trip, consider that the cost of air travel increases over time, buy tickets in advance.
SEE THE VIDEO CONDRESS 2017 – HOW IT WAS